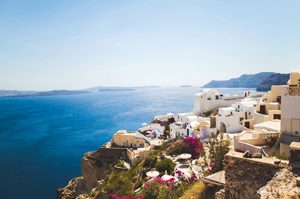 Greece has gained popularity in recent years as a great destination for holiday homes, and it's easy to see why. Year-round sunshine, good food and a fantastic selection of properties have only further enhanced its reputation as the ideal location for your next holiday home. Take a look at a few reasons why you should consider Greece for holiday home ownership.

1. Great weather
Greece offers the perfect opportunity for you to buy a property in a fantastic climate. Greece is known for its excellent weather, and rain isn't a common occurrence. The good weather will encourage you to spend more time outdoors, enjoy more time with your family, as well as experience a variety of Greek activities. You'll even have chance to spend more time on the golf course!
2. Friendly people
Greeks are known for being some of the most hospitable and friendliest in Europe, so you'll have plenty of opportunities to get involved in the community. Their friendly nature will help you feel more comfortable when you visit and help you to integrate into the community. The people can make or break a destination, and Greeks will definitely make you feel welcome in your new home.
3. Accessible
Greece is easily accessible from across Europe, and many major airlines often offer a number of deals throughout the year, which makes getting to the country very easy. Greece has numerous airports, and if you desire, it's easy to drive to Greece from Europe or hire a car when you arrive. It's easy to visit, allowing you to invite more family and friends to help you enjoy your holiday in the beautiful country.
4. Variety
Greece is home to one of the longest coastlines in the world, offering you a fantastic variety of beautiful properties in stunning scenery. Many also have access to beaches and the ocean. If you are looking for a holiday home in a beautiful location in Greece, you can't go wrong with Halycon Developments. You could also consider a holiday home as an investment property, allowing you to earn rent from holidaymakers.